Fishing Frenzy Game Description
Fishing is one of the most popular leisure activities in the world. Something about the hypnotic motion of the water and the intoxicating scent of salt in the air can easily calm a troubled mind. Our Fishin' Frenzy slot game mashes together the serenity of fishing with the excitement of online casino slots, creating an experience like none other.
The beautiful aquatic 3D design makes you feel like your strolling through an aquarium, observing the mysteries of underwater life. The vibrant graphics immerse you in a seafaring experience, sure to put your mind at ease. The magic of Fishin' Frenzy resides in its awesome gameplay, which combines just the right amount of stimulation and relaxation to help relieve your stress.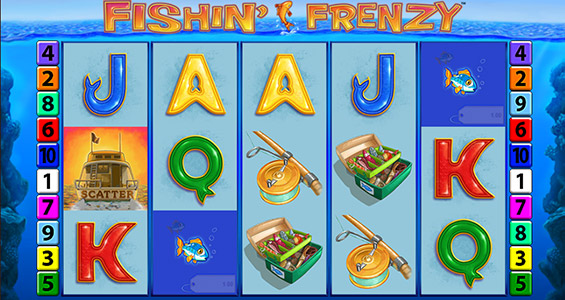 How to Play Fishing Frenzy Slot Online
Fishing in the real world can be more complicated than it seems. Which bait should you use? What kind of pole should you buy? Do I need to rent a boat? What kind of fish do I want to catch? So many decisions! Luckily, Fishin' Frenzy slots simplifies the fishing experience, allowing you to focus on the magical graphics, low-minimum bets, huge winnings and seamless gameplay.
Playing Fishin' Frenzy couldn't be easier. This slots game features 5 reels and 10 paylines, which means there are 10 ways to win with every spin. All you have to do is choose your bet and click the "Start" button. Once you click start, the reels will automatically start spinning, playing pleasing sound effects as the prizes come rolling in. The symbols include both letters and graphics. The graphics feature cartoony images of pelicans, tackle boxes, reels and of course, fish! Each image has a difference prize amount, creating a dynamic gameplay experience.
In addition to the standard game symbols, Fishin' Frenzy also features a 'Scatter' symbol, designed to resemble the name on a boat. Scatter symbols are special because they don't need to be on a payline in order to produce winnings. If you land multiple scatter symbols, you can win money even if they are not aligned on a single payline. In Fishin' Frenzy, matching at least three scatter symbols results in free games. For example, if you land 3 scatter symbols you get 10 free games. 4 scatter symbols net you 15 free games and 5 scatter symbols result in a massive 20 free games; plenty of opportunity to win big money.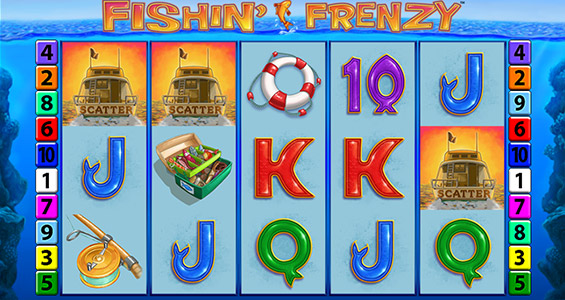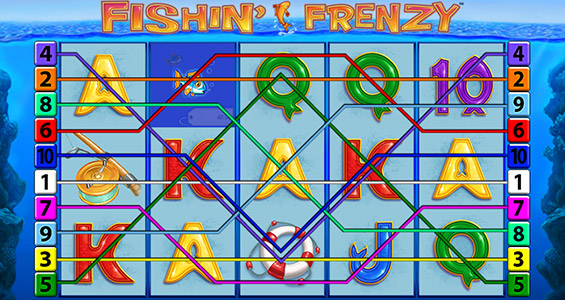 Fishin' Frenzy Info
| | |
| --- | --- |
| Software: | Edict (Merkur Gaming) |
| Slot Type: | Video slot |
| RTP (Return to Player): | 96% This the average percentage of money returned to the player. |
| Pay Lines: | 10. Ten way to win with every spin! |
| | |
| --- | --- |
| Reels: | 5 |
| Minimum Bet: | 0.01 €. Perfect for any budget! |
| Maximum Bid: | 10 €, if you're feeling super-lucky. |
Meet the Fishin' Frenzy Characters
Fishin' Frenzy features a collection of adorable symbols, all designed to recreate the relaxing fishing experience. The cartoon-like designs are sure to put a smile on your face. Here are the zany characters you can expect to see.
Perhaps the most important character in the game is one you are probably already familiar with: yourself. In Fishin' Frenzy, you're the master of the sea, luring jackpot winnings right into your pocket. Your expertise with a fishing pole results in massive payouts and tons of bonuses. If you land the fisherman symbol, you will earn extra winnings based on the price tag amount listed below the character symbols.
The next characters you'll notice are the fish themselves. Each of our oceanic friends features a cute smiley design. Each matching combination of fish will earn you a different amount of winnings. If you are playing the game with a 0.20 € bet, landing 3 fish will earn your money back, 4 fish will win you 2.00 € and 5 fish will earn you 10.00 €. That's a 500% payout!
The pelican symbol is one of the most welcomed sights in the game, since landing multiple pelicans results in higher winnings compared to the fishy characters. In fact, the pelicans can produce up to four times more.
Fishing Frenzy Slot Game on Mega Casino
Fishin' Frenzy is one of our most entertaining online slots games, so what are your waiting for? Grab your pole and tackle box and start reeling in your winnings today! The big fish is out there, just waiting to be hooked.