When you think of King Kong, you probably think of him scaling up the side of the Empire State building fighting off helicopters while he clings on to his one true love. Well, it's time to forget all about that, with Blueprint Gaming totally reimagining the creature for the King Kong Cash slot game. In this game, Kong is much more mellow, taking a snooze next to a set of reels and only waking up in order to help players in their quest for winnings.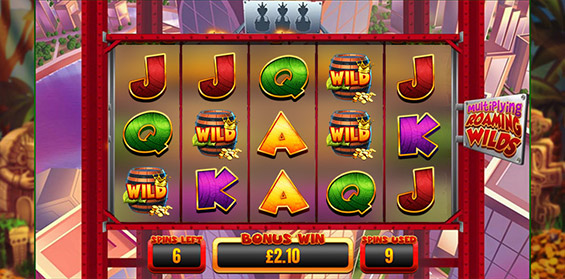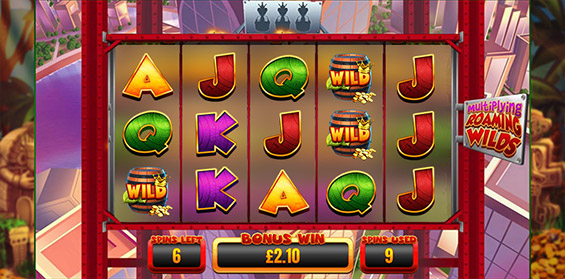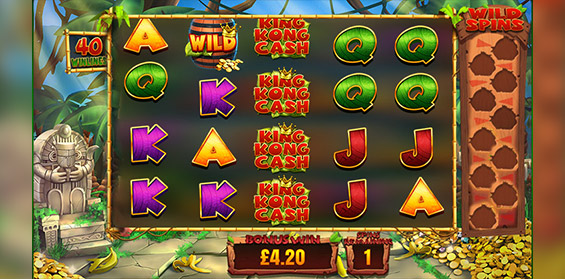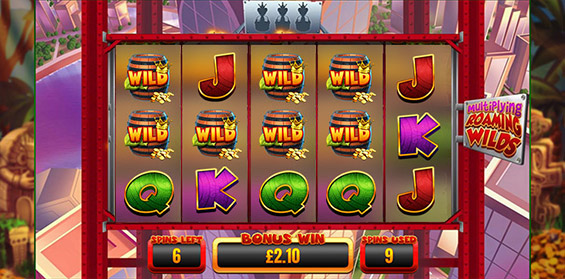 King Kong Cash Game Description
For King Kong, the days of scaling buildings and chasing off film crews are long behind him. Nowadays, Kong just wants to sit back, swig some cocktails and enjoy his retirement on Skull Island, and that's exactly what you'll find him doing in this slot.
In the slot, Kong sits next to the reels and occasionally awakens to help give you some bonus features and a little boost. The slot is based inside Kong's lair on Skull Island, which has been given a cartoonish makeover to give the game an enjoyable feeling and a laidback atmosphere. This is all aided by an upbeat soundtrack.
How to Play King Kong Cash Slot Online
Kong is all about living a laid-back life, and he wants you to feel that too when playing the King Kong Cash online slot game. Blueprint has developed an easy to use slot game that takes play over five reels and three rows. The slot has 20 fixed paylines, and you can find all of the information you need to know about the slot's symbols and mechanics by checking out the paytable at any time.
The game can be played on a range of different devices at Mega Casino, including both mobiles and tablets. Players can spin the reels from £0.20 up to £500.
While the base game is all about kicking back and soaking in the sun at Skull Island, the game springs to life when you wake up Kong and activate the bonus features. Kong can wake up at random intervals during the slot and reward you with some special features. Three of these features will see Kong add extra symbols to the reels.
The golden barrel bonus adds exploding barrels to the wheels that will reveal a surprise symbol, while the bonus boost also adds extra bonus symbols to the reels. While Kong's temperament has definitely mellowed over the year, he still has an aggressive streak, and on some occasions, he will wake up and hit the wheel with a mallet, which will stick a winning combination to the reel while everything else respins. Finally, he might throw a banana at the reels in anger, adding extra wilds to the game in the process.
It's not just these bonuses that are available in the game. Landing three of the King Kong Cash logo symbols will trigger one of three bonuses. The King Kong trail has elements of the iconic Donkey Kong game, as you work your way up some ladders unlocking bonuses and multiplier along the way, hoping to avoid a bomb that ends the round. There are then two bonus spins rounds, the Empire free spins, which is a progressive bonus spins feature, and the Golden Kong free spins, which takes place on a bigger set of reels and offers bigger payouts than the base game.
Meet the King Kong Cash Characters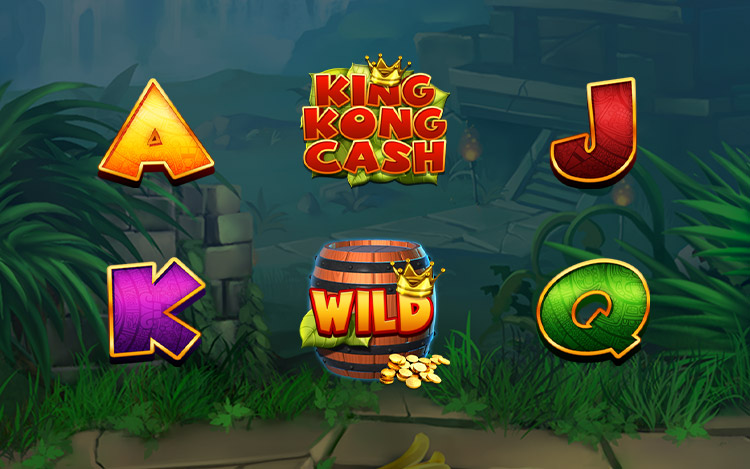 Of course, King Kong is the star of the show in this slot. For those who are unaware, King Kong is a giant gorilla that was made famous in a 1933 movie. Since then, he has become a pop culture icon, inspiring countless spin-offs, imitators, and sequels.
The version of Kong that Blueprint Gaming has given us though is a very different beast to the one often portrayed. In this game, Kong spends the majority of the time in a Hawaiin shirt snoozing next to the reels. It's only when you wake up do we even catch a glimpse of the old-school Kong that people grew to fear.
Kong is not the only character you will encounter on this trip to Skull Island though. The game also has a collection of whacky animals as symbols including a cigar-smoking rhino, a pirate parrot, and a tiger with a penchant for pipe smoking.
King Kong Cash FAQ
What is the maximum bet for King Kong Cash?
The maximum bet is 500.
What is the minimum bet for King Kong Cash?
The minimum bet is 0.2.
Can I play King Kong Cash on mobile?
Yes, you can.
What is the RTP of King Kong Cash?
The RTP is 95.79%.
What is the biggest potential win for King Kong Cash?
The biggest potential win is 250000.
King Kong Cash Slot Game on Mega Casino
Not every journey to Skull Island has to be a scary one, and that is demonstrated with all of the fun that can be had in King Kong Cash. The title is one of the most engaging and bonus feature-packed slots we have available here at Mega Casino. It manages to put a fresh new spin on a pop culture icon while also providing players with a range of bonus features and some really engaging gameplay. ​​Be prepared to be amazed by the eighth wonder of the world all over again when you play King Kong Cash online at Mega Casino.